Dotpeenator Portable Dot Peen Marking Machines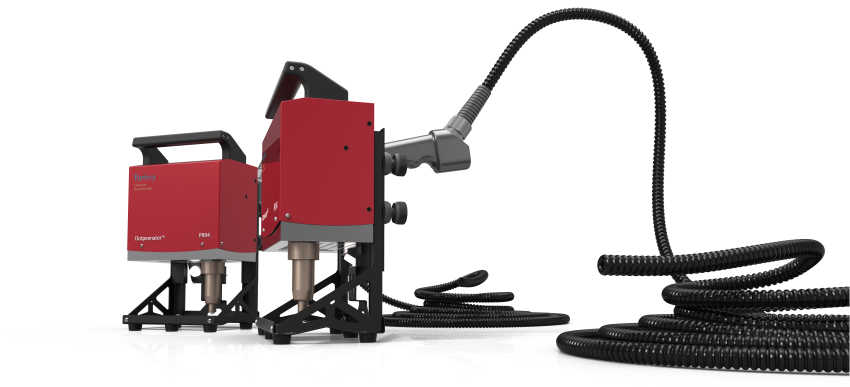 Dotpeenator Portable Dot Peen Marking Machines equipped with YT188P Peen-Cartridge Assembly Kits
Desktop Dot Peen Marking Machines are specially designed for easy marking of large, hard-to-carry workpieces on any factory floor. Optionally different support fixtures are mounted onto Dotpeenator hand-held units. That way, the portable marking heads are easily rested against the large surface of The workpieces. , and the marking operation is easily accomplished by gently pulling the trigger of the portable dot peen marking machine. Our range of portable dot peen marking machines includes the products with working areas of 90X40MM, 140X40MM, 140X60MM. Thanks to the stainless steel dust covers, our dot peen marking machines prevent the linear axes of our machines from getting dusty and have long years of precise and maintenance-free operation. A Dotpeenator hand-held portable dot peen marking machine is configured to work with 3 different dot peen marking technologies. Based on your requirements, we can integrate one model from the pneumatic quick-marking peen-cartridge kit series or, the pneumatic uneven-surface tolerance peen-cartridge marking kit series or the electric marking peen-cartridge kit series. Our R&D work is ongoing and we will be adding one more new type of peen-cartridge marking kit soon.

1- 'Electrical Peen-Cartridge Kit'
(Pin Marking / Peening Frequency: 20Hz-50Hz)
2- 'Pneumatic Peen-Cartridge Kit'
a - 'Uneven-Surface Tolerating Peen-Cartridge Kit (Peen Marking / Peening Frequency: 20-50Hz)
b - 'High-Speed Peen-Cartridge Kit (Peen Marking / Peening Frequency: 200Hz)

For instance, our hand-held/portable models of dot peen marking machines equipped with either an electrical or a pneumatic peen-cartridge assembly kits are currently used for the following marking operations.

1-Submersible Pump Marking,
2-Steel Construction Parts Marking,
3-Steel Profile Marking,
4-Volant Marking,
5-Chassis Marking,
6-Engine, Transmission Body Marking,
7-Spindle Motor Marking,
8-Electric Motor Marking,
9-LPG Tank Marking,
10-Bomb Body Marking,
11-Volant Marking,
12-Cast Part Marking,
13-Cast Iron Machine Base Marking,
14-Cast Iron Valve Body Marking....
---
Showing 1 to 10 of 10 (1 Pages)