FactoryMark™ R30 Series Ball Point Pump Paint Markers
Our Specifically Designed, High Volume, Pump Type Ball Point Markers are used on every type of surfaces, rough or smooth, including Tyre, glass, asphalt, concrete, stone, steel,....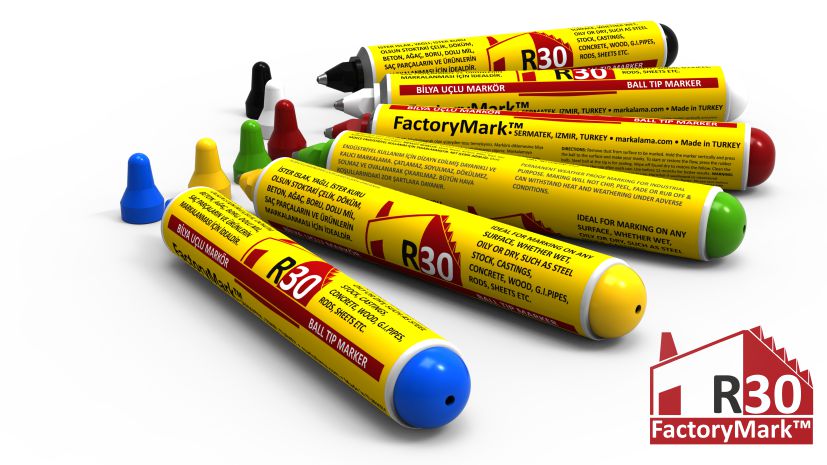 Permanent,

Weather Proof, Marking For Industrial Purpose

IDEAL FOR MARKING ON ANY SURFACE, WHETHER WET, OILY OR DRY, SUCH AS STEEL STOCK, CASTINGS, CONCRETE, WOOD, G.I. PIPES, RODS, SHEETS ETC.


PERMANENT WEATHER PROOF MARKING FOR INDUSTRIAL PURPOSE. MAKING WILL NOT CHIP, PEEL, FADE OR RUB OFF & CAN WITHSTAND HEAT AND WEATHERING UNDER ADVERSE CONDITIONS. THE 65ML COST-EFFECTIVE FACTORYMARK™ R30, AS A TURKISH BRAND NAME BALL POINT PUMP PAINT MARKER SERVES IN DIFFERENT INDUSTRIAL AREAS ALL OVER THE WORLD.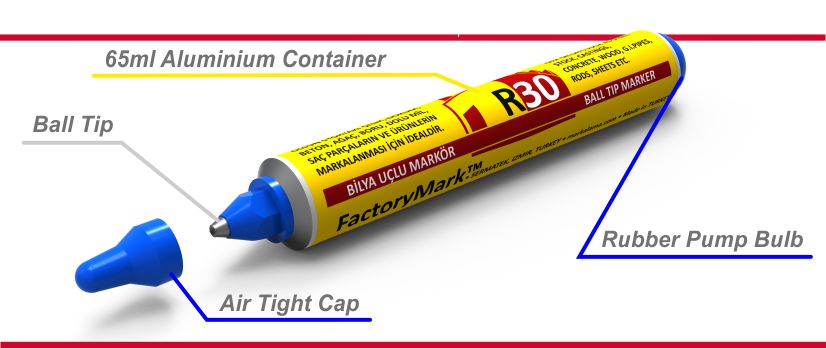 DIRECTIONS
Remove dust from surface to be marked. Hold the marker vertically and press the ball to the surface and make your marks. To start or restore the flow, press the rubber bulb. Steel ball at the tip is for sealing. Wipe off found dry to restore the follow. Clean the tip and replace the cap after each use. Use before 12 months for better results.
WARNING: Do not press the rubber bulb when not in use. Harmful if swallowed or intentional inhalation. Avoid contact with eyes. Keep away from open flame. Please test before use.
COLORS AVAILABLE: Black, White, Red, Blue, Green, Yellow
FOR INDUSTRIAL USE ONLY.
NET CONTENT: 65ml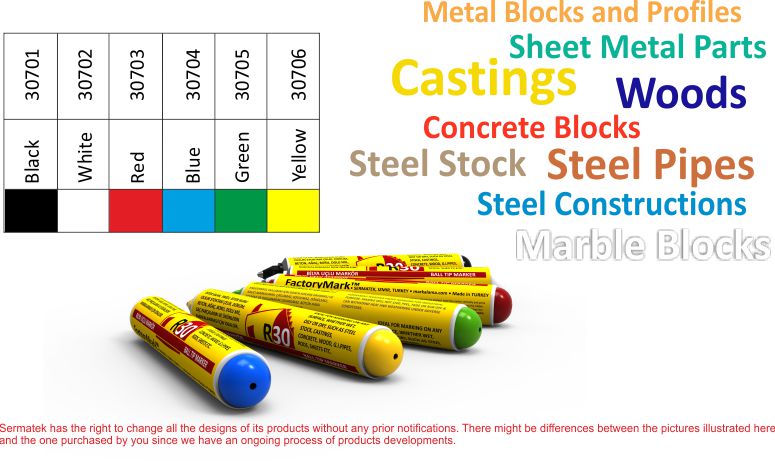 ---
Showing 1 to 6 of 6 (1 Pages)