Laserator Class-I Desktop Laser Marking Machines
Desktop Laser Marking Machines Are Preferred By the Investors Who Needs The Marking Machine Not To Be Mobile On The Floor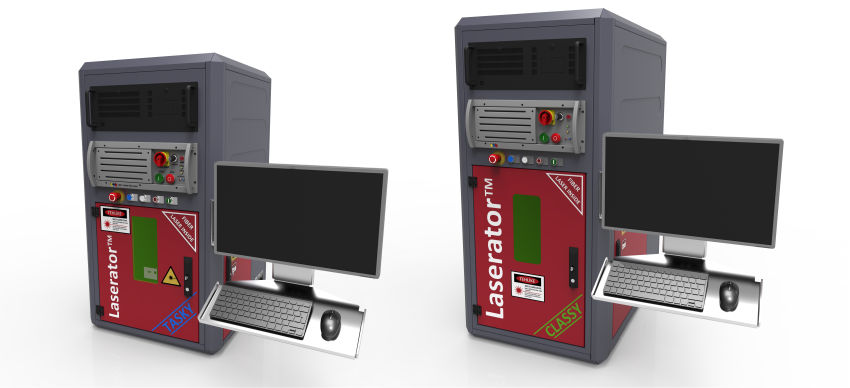 Our desktop Class-I laser marking products, which have the Class-I classification, ie the cabin structure and insulation, protect the operators and employees from the harmful effects of laser beams. Laser marking enclosures can be easily installed on automation lines. Laserator Class-I Desktop Fiber Laser Marking Machines have 2 side doors and 1 front door. To protect "OEM Laser Engines of Us" from dust, our OEM laser and industrial computer are mounted on the top of the enclosures.
Programmable Z-Axis Automation is available in our enclosures. This feature allows the necessary focal points for workpieces of different heights to be saved in the generated marking program and the corresponding focal length is automatically adjusted by the Z axis as the program is opened. Our programmable Z-axis allows the scan head to be used on the 2.5 axes. Therefore, different marking operations can be carried out with a single button press through this axis to a workpiece which will be made more than one laser marking at different heights. Such operations cannot be carried out on products with 'Manual Z Axis' or 'Non-Programmable Electric Drive Axis'. PROGRAMMABLE Z AXES provide a lot of convenience for companies that have more than one product or subcontractor and therefore are able to re-mark the parts in a wide range of different titles.
inside our enclosures, there are a matrix M8 perforated steel work table, lighting system, rotary axis preparation, preparation for exhaust emission, a rear service door, a marking button, a stop button, an illumination button, an exhaust emission button and a laser protection pan eliminating the harmful effect of laser, which allows us to follow the marking operation with the naked eye.
Our enclosures are made of steel sheet and painted with electrostatic paint for longer life expectancy.
On our every desktop laser marking enclosures, there are also a moving, right-to-left positionable stainless steel monitor strap kit which allows us to carry the monitor, wireless keyboard and mouse kits, and lets us work easily both at the side and the front door.
---
Showing 1 to 2 of 2 (1 Pages)