FactoryMark™ S20 Valve Action Permanent Paint Markers with A Double Sided Acrylic Tip
FactoryMark™ S20 Series Paint Markers are industrial valve-action paint markers at the volume of 13cm3, filled with Xylene Free permanent Paint, also offering a double-sided most durable 6mm tip.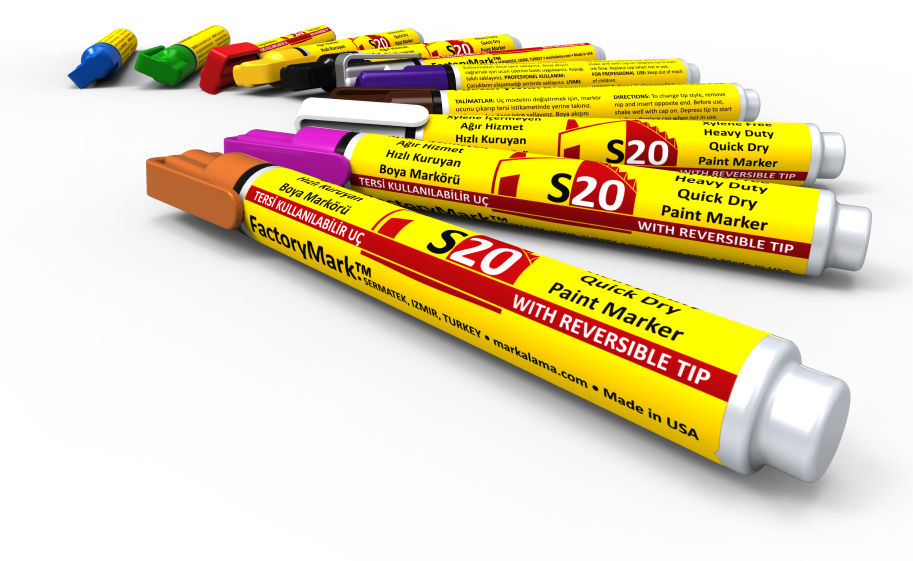 With its 13cm3 special marking paint within its slim aluminum marker con

tainer

, a

FACTORYMARK

™ S20 Industrial Permanent Paint Marker has passed through many tests of many well-known international companies.




FACTORYMARK™ S20 Industrial Paint Marker

PERMANENT, UNFADING, 13cmᵌ COST EFFECTIVE FACTORYMARK™ S20 SERIES SERVES WITH A TURKISH TRADEMARK IN 12 COLORS TO CHOSE FROM IN NEARLY ALL INDUSTRIAL AREAS OF THE WORLD.
FACTORYMARK™ S20 is a paint marking product designed to be the most secure and talented one in the paint marking industry. Manufactured with a quick drying, most resistant, high volume, non-Xylene contained a special formula, FACTORYMARK™ S20 marks permanently on more areas, meeting the needs of the more demanding applications compared to the other paint markers. Having a range of 12 colors to choose from, FACTORYMARK™ S20 is specified for meeting the needs of any quality control paint marking or industrial identification applications most permanently and cost-effectively.
THE SPECIFICATIONS
•
Since FactoryMark™ S series is XYLENE-FREE, you do not worry about the
health
of your workers and environmental contamination.
•
A FactoryMark™ S20 marker has
a
n
air-
tight
, paint color cap formed specifically for carrying in a
pocket
. Easy to remove
andreplace
. Clip prevents roll-off.
•
A FactoryMark™ S20 marker has a reversible tip with a standard bullet form on one side and wider chisel form on the other.
The width
of the bullet:3.2mm, The
width
of the chisel:5mm.
•
Dimensions of A FactoryMark™ S20 marker are 135XΦ16mm. A u
nique
volume of 13cm3 paint at a
unique
price. In volume, it nearly contains twice as much paint as 7cm3 markers.
XYLENE-FREE permanent paint dries within seconds.
•
A FactoryMark™ S20 marker allows for unprecedented versatility of marking on oily, wet and soaped surfaces.
•
Quick dry,
weather
and abrasion resistant, permanent vibrant color paint marks on almost any surface.
•
The nib of a FactoryMark™ S20 marker is made of hard acrylic fiber to prevent premature wear.
•
Marking temperature range: –10˚C to 65˚C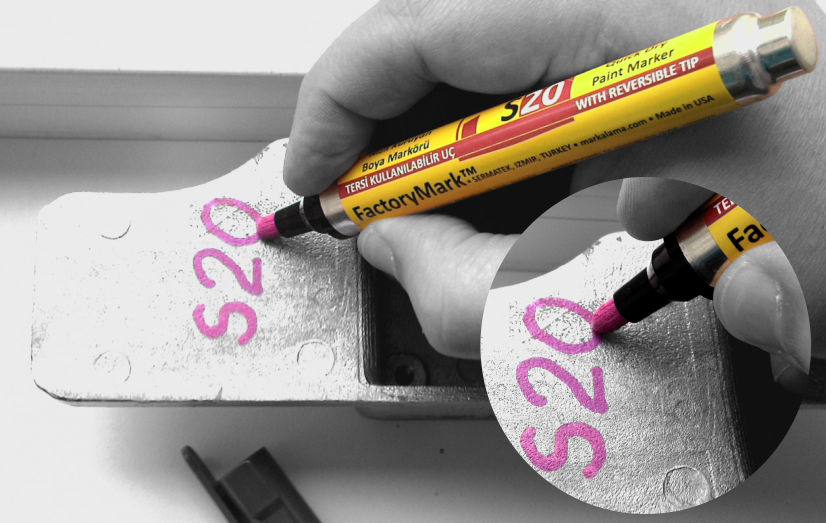 SOME SECTORS WHERE

FACTORYMARK

S Series is being used
1-Aviation Industry
2-Space Industry
3-Nuclear Industry
4-Ship Building Industry
5-Electronics Industry
6-Defence Industry
7-Automotive Industry
8-Machinery Industry
9-Heat Treatment Industry
10-Energy Industry


Colors offered By FactoryMark
™
S20
Permenant
Paint Markers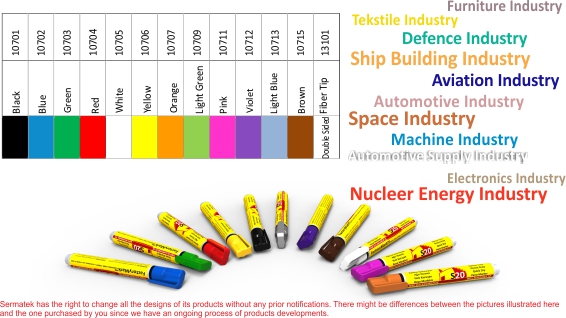 ---
Showing 1 to 13 of 13 (1 Pages)